The BigWave
Unique worldwide in the Galaxy Erding!
180 meters long, 72 tons heavy and a price of 1.6 million euros - Big Wave is the name of the new slide that redefines the word slide fun in the spa garden. With Germany's fastest and longest summer tyre slide, the world's largest thermal spa offers its guests double slide fun with the spectacular combination of the Big Bang and the Sidewinder. On Europe's first hybrid slide with forces of up to 3 G and a top speed of 45 km/h, action-hungry holiday guests will find their personal slide El Dorado under palm trees. Marcus Maier, CEO of the slide world warns: "The slide is addictive! Guests can also confirm this when they experience the 45-second adrenaline rush for themselves. The tyre slide is approved for all visitors aged 10 and over, who weigh between 40 kg and 100 kg.
COMING 2019: Big Wave for two!
Double tire, double fun, double adrenalin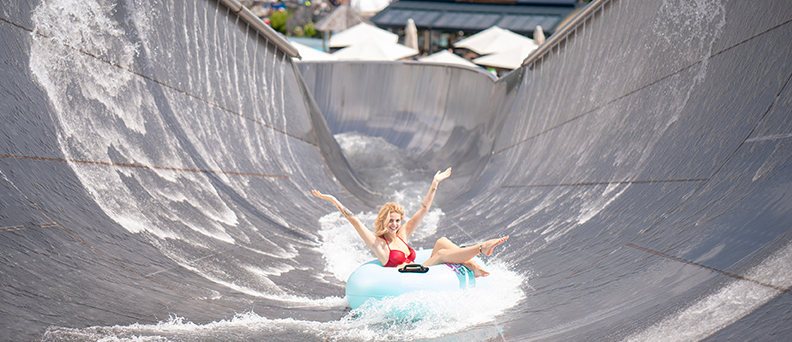 Sommerfest Highlights
The sun shone and gave us perfect conditions for the festive opening of BigWave at the Sommerfest! After the press event, the time had finally come and Europe's first hybrid slide was opened for guests. The long queue and the happy faces spoke for themselves and were a welcome reward for the team for the stress of the last weeks. Not only the BigWave amazed the visitors - "Rooftop" singer Nico Santos and the DJ duo Ofenbach heated up the bathers at the summer stage.