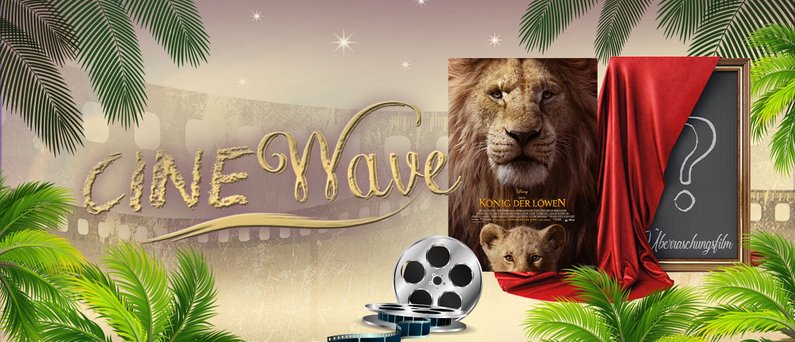 CineWave March
What could be better than a movie night with the family at Therme Erding? The legendary CineWave event series transforms the dreamlike wave pool into a fascinating cinema world for young and old. Forgotten are uncomfortable cinema chairs and annoying popcorn rustle: Here, visitors to the Therme Erding can watch their favourite films relaxed on pool chairs in the 34 degree warm lagoon in front of an XXL screen. Amidst exotic palm trees, the holiday guests can float in the water and immerse themselves in the breathtaking world of film.

Let's get started with the Disney remake of the classic cartoon "The Lion King", which will delight both young and old. The Lion King roars on Saturday, 14th of March at 6:00 pm in the wave pool. And impressively realistic!

It is the well-known stirring story of the little lion cub Simba, whose father Mufasa - the reigning Lion King - is killed by an intrigue of his brother, who flees and, with the help of some friends in the animal kingdom, returns home after years to finally take up his rightful role as heir to the kingdom.

The event continues humorously on Sunday evening, March 15th at 4:00 pm, when another family film hit provides for cheerful cinema moments in the wave pool.

Wave Pool
14.03.2020 until
15.03.2020