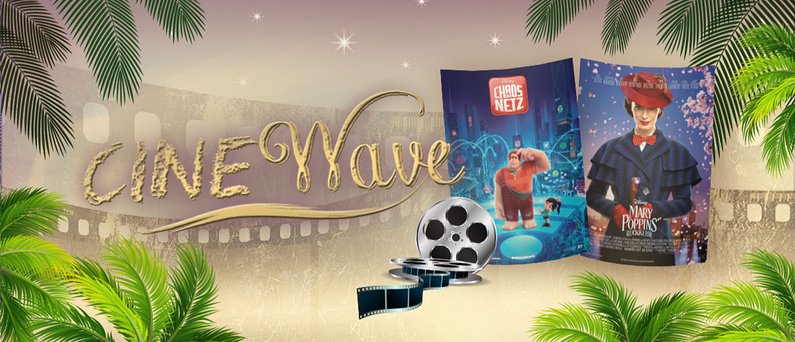 CineWave November
Wintertime is cinema time - and where can you follow your personal favourite movie more beautifully than in the turquoise glittering wave pool? Surrounded by an extraordinary backdrop of warm and cosy waves and 300 real large palm trees, the Therme Erding invites you to the legendary CineWave. Cinema lovers can experience unique film classics on an XXL LED screen while they relax in the wave lagoon on inflatable pool chairs. Watch the film!
On Saturday, November 9th, Walt Disney's animation hit " Ralph Breaks the Internet" will provide grandiose entertainment for young and old. In the sequel to " Wreck-It Ralph" Ralph and his lively friend Vanellope land on the world wide web to find a spare part for Vanellope's video game. But as soon as he arrives on the internet, his friends create a pandemonium and soon an adventurous race against time begins...
It will be simply magical when "Mary Poppins Returns" on Sunday, November 10th provides unforgettable family entertainment: The siblings Michael and Jane Banks have grown up in the meantime. After the tragic death of Michael's wife, his life with the three children is marked by sadness. But then Mary Poppins suddenly returns to the family life in a magical way and brings joy, happiness and magic back to the Banks.
Wavepool
09.11.2019
10.11.2019