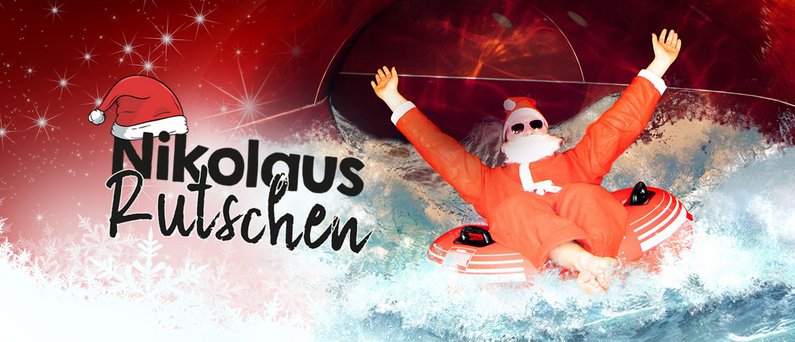 Santa Claus sliding
On Friday, 6th of December, a very special Christmas spectacle will take place at the Therme Erding: numerous bathers dressed up as St. Nicholas will storm Europe's largest slide world, the Galaxy Erding.

On St. Nicholas Day 2017, the world's largest spa set the record with "the most St. Nicholas disguised as sliding on a water slide within an hour". At that time, 155 guests dressed as St Nicholas slide on the Magic Eye and experienced unique slides in the 360 metre long tyre slide.

Last year, Therme Erding and its guests broke their own record of 201 St. Nicholas and the spectacular record is to be broken once again these years!

Anyone who wants to be there when Galaxy history is written can become part of the exciting record and participate in the costume they bring along. All participants dressed as St. Nicholas will slide on the Magic Eye from 6 p.m. and try to beat the current record of 201 St. Nicholas.

Please send your registration by e-mail to [email protected] with the subject "Registration Nikolausrutschen" and your personal data (name, address, age, telephone number).

All registered record slides will register at the counter at the entrance area at 2 pm. The world record starts at 6 p. m..

Ho Ho Ho! The first 400 participants will receive free admission to the Therme* from 2 p.m.!

Attention: Only fully costumed St. Nicholas will be accepted and only these will receive free admission. The costume for men must consist of cap, jacket, trousers and beard. Women wear caps and Santa Claus dresses or caps, trousers and jackets.

*Incl. wave pool area & galaxy slides