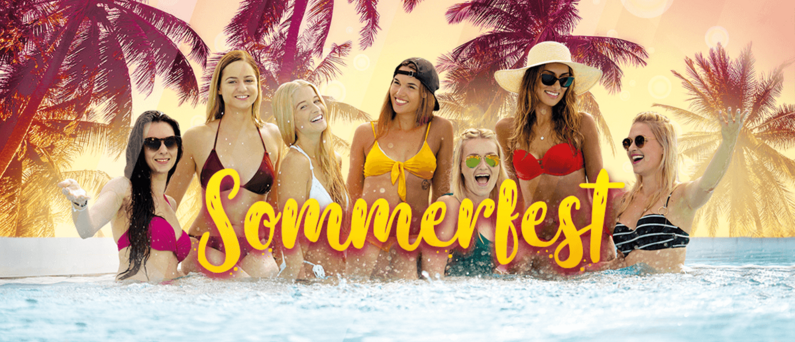 Therme Erding Summer Party
Unique South Sea flair, stars live on stage and an animation programme for the whole family guarantee unforgettable holiday hours at the Therme Erding Summer Party from Friday, 10 July to Sunday, 12 July 2020.
This year two mega guests, Nico Santos and Christina Stürmer will provide first-class musical entertainment on the show stage in front of the huge outdoor pool.
Already in the last years Nico Santos flashed the spa visitors with his world hits like "Rooftop", "Safe" and "Unforgettable". And also with his current single "Better", which he recorded together with musician colleague Lena Meyer-Landrut, the online juror of "The Voice of Germany 2019" immediately stormed the charts. The Bremen native is one of the most successful German songwriters and delivers the right sound for hot summer days with his pop music, paired with neo-soul and soulful vocals.
Another highlight of the summer party is the live performance of Christina Stürmer! The Austrian chart striker lives up to her name and inspires the guests with her long-lasting hits like "Seite an Seite", "Millionen Lichter" and "Wir leben den Moment " as well as with the songs from her current album "Überall zu Hause". Joyful, nostalgic, but at the same time with a modern sound she plays songs like "In ein paar Jahre" and "Du erinnerst mich an mein Herz".
Furthermore, the quartet The Monroes heats up the visitors in the outdoor pool with their music in the style of the 50s and 60s. The four thoroughbred musicians let it crack with their own compositions and the cover hits of Elvis Presley & Co.
At home in clubs and festivals all over the world, the DJ and producer duo Stereoact also conquers the stage in front of the extensive outdoor pool with their hits. With their remake of the Kerstin Ott classic "Die immer lacht" the two musicians from the Erzgebirge made it to number 2 in the German and Austrian single charts.
The performance of Moritz Garth is also absolutely terrific! The musician was voted the most popular German music act in the YouTube Golden Camera Digital Awards 2018.
In addition to the bands and DJs, numerous family attractions and a colourful animation programme make your holiday perfect. In addition, selected partner companies of Therme Erding present themselves in the Tropical Spa Garden with many free and interactive activities.
Get your Early Bird ticket now and don't miss this unique event!
Wavepool
10.07.2020 until
12.07.2020