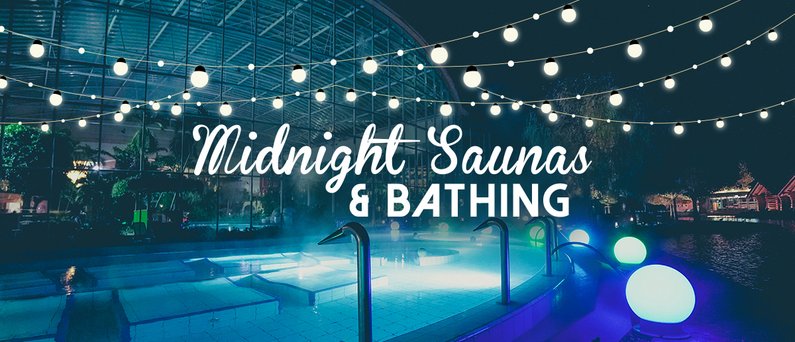 Midnight Saunas & Bathing
Every second Saturday in October, November and December, all guests of Therme Erding can look forward to bathing & saunaing until 1a.m. (Galaxy Slide World until midnight).
The best: In the evening, atmospheric background music provides for relaxing hours under real palm trees.
On the animation deck in the wave pool the DJs play from 6 p.m. to 8 p.m. Afterwards, they delight the guests at the mixing desk on the tropical spa pool in the thermal spa from 8.30 p.m. to 10.30 p.m. Unique soloists enchant the visitors on stage at the vitalitypool in the textile-free Spa Area & Saunas from 8 p.m. to 11 p.m. Thus your stay in the Therme Erding becomes a vacation happiness.
10.10.20 • Badetasche • Wavepool & Tropical Spa
Deep House, Chill House, Electronica, Dance
10.10.20 • Paulo Alves • Spa Area & Saunas
Lounge-music
14.11.20 • Zoom.Like • Wavepool & Tropical Spa
House, Open Format
14.11.20 • Basti Pusch • Spa Area & Saunas
Lounge-music
12.12.20 • L3VELS • Wavepool & Tropical Spa
Open Format
12.12.20 • Andi Speckmann • Spa Area & Saunas
Lounge-music
Wave Pool, Tropical Spa Pool, Vitalitypool
12.12.2020