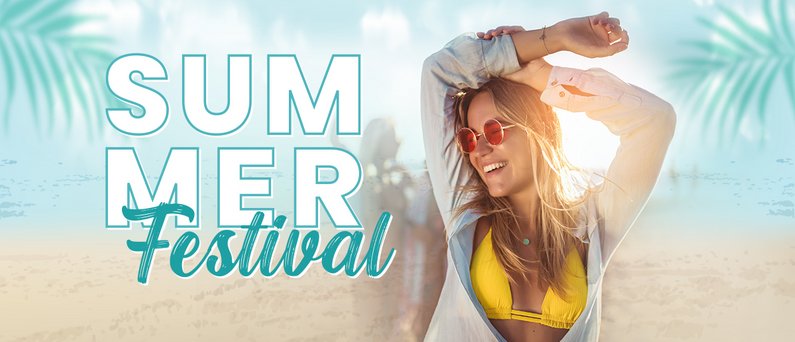 Summer Festival 2023
Musical highlights combined with superlative attractions in a perfect vacation ambience: The Summer Festival at Therme Erding 2023 will ensure unforgettable vacation hours from Friday, 07.07. to Sunday, 09.07.2023. First-class bands, DJs and artists await you on the show stage in front of the large outdoor pool. Experience unique concerts while you dance to the beat in the thermal spa water and treat yourself to a refreshing cocktail at the pool bar.
The Highlights on Friday, 07.07.2023 are singer Stefanie Heinzmann and the Austrian pop band Alle Achtung. Stefanie Heinzmann will thrill her fans with mega hits like "Build a House" or "Shadows" and celebrate her 15th anniversary. With their rousing songs such as "Marie" and "Bowie", Alle Achtung ensures a lot of good mood at the Festival-Friday.
On Saturday, 08.07.2023, star guest Kelvin Jones will sing his way into your hearts with mega hits like "Carry You" and "Lights On". The Zimbabwean-British singer-songwriter also provided a lot of rhythm and good mood last year. In addition, you can look forward to the quartet The Monroes, who will also thrill you with live performances on the large show stage in front of the outdoor pool. The DJs Beachbag will ensure a rousing party atmosphere. In addition to these musical highlights, Germany's No. 1 soccer freestyler Jannikfreestyle will provide plenty of excitement with his unique tricks.
And also on Sunday, 09.07.2023, two Bavarian artists will heat you up at the Summer Festival of Therme Erding. Look forward to the Bavarian band DeSchoWieda, who will convince you with cover versions of international hits in Bavarian dialect, as well as the Bavarian songwriter and modern gstanzler Oimara, who will conquer your hearts with charm and wit. Germany's No. 1 soccer freestyler Jannikfreestyle will once again provide fun and good humor with his ball tricks.
You can also expect a lot of other artists who will make the Summer Festival at Therme Erding an unforgettable summer of events. These will be announced promptly on our homepage and via our social media channels. An extensive supporting program with numerous family attractions makes the vacation happiness perfect.
Would you like to be part of our Summer Festival 2023? Then secure your Summer Festival tickets now!
Wave pool outdoor
07.07.2023 until
09.07.2023