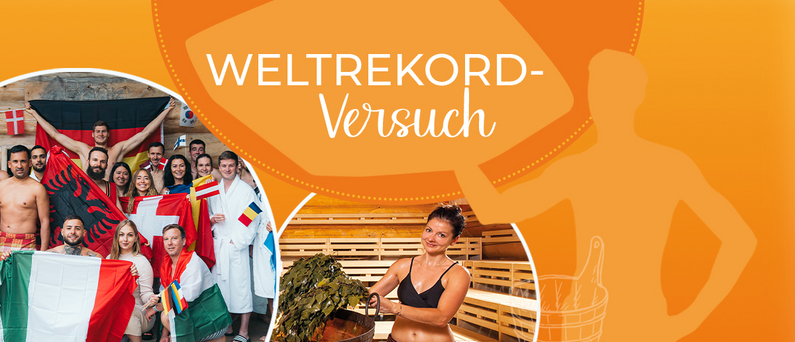 World record attempt
Attention sauna lovers worldwide!
We celebrate the start of the sauna season with a true fireworks display of heat, relaxation and extraordinary moments.
From October 6-8, the sauna area of the VitalTherme & Saunas (textile-free, from 16 years) will be transformed into a big show stage - when sauna masters will heat up like world champions, 24 saunas will glow and we will celebrate the first Sauna Festival of Therme Erding.
We break records!
On Friday, October 6 at 7 pm, we will start the spectacular festival weekend with a world record attempt and gather the most nationalities in one sauna.
In order for the Record Institute for Germany (RID) to certify the record we are aiming for, over 100 different nations must participate in an infusion in the banya (75°C).
You want to be part of it? With one click you can register for the world record attempt and represent your nation.
As a thank you for your participation, in addition to the discounted day admission to the Spa Area & Saunas (40€ instead of 64€) on the day of the world record attempt, we will give you a day admission for another accompanying person worth 64€. If you would like to visit the Therme Erding without an accompanying person on the day of the world record attempt, we will be happy to issue you with a voucher worth 64€ as an alternative.
Please note that in the event of non-participation or non-attendance, we reserve the right to charge the cost of one day's admission.
Already registered nations:
Australia (2 of 2)
Belarus (1 from 2)
Brazil (1 of 2)
Bulgaria (1 of 2)
Germany (2 of 2)
Estonia (1 from 2)
Finland (1 from 2)
France (1 of 2)
Greece (1 of 2)
Guatemala (1 from 2)
Italy (1 of 2)
Canada (1 of 2)
Latvia (1 from 2)
Madagascar (1 from 2)
Moldova (1 from 2)
Austria (2 of 2)
Portugal (2 of 2)
Russia (1 of 2)
Sweden (1 of 2)
Switzerland (2 from 2)
Spain (1 from 2)
Thailand (1 from 2)
Ukraine (1 from 2)
USA (1 from 2)
Spa Area & Saunas
06.10.2023