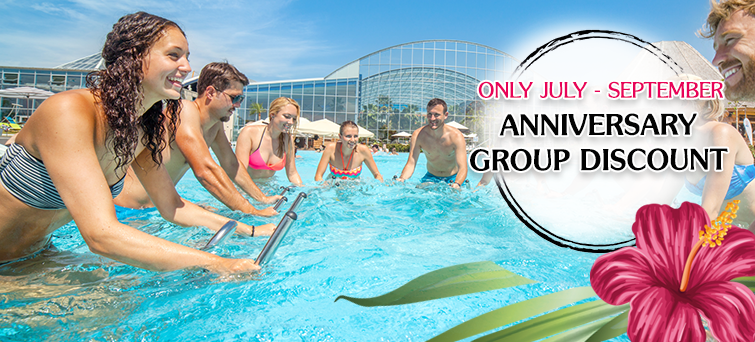 The Therme Erding is a popular excursion destination for bus companies, tour operators, clubs and private groups.
Discover 27 Slides, 27 Saunas, a huge Wave Pool and much more in the largest spa in the world! The varied offer of the Therme Erding offers you the unique opportunity to tailor your excursion exactly to the needs of your group and thus ensure unforgettable experiences.
Our anniversary group offer
Celebrate with us 20 years Therme Erding and secure yourself in our anniversary year exclusively only from July - September 10 % group discount already from 10 persons onwards!
Your advantages with the anniversary group offer:
10 % group discount for groups of 10 persons or more with prior registration (outside the promotion period only for groups of 20 persons or more)
Valid for all areas on the total price of a group
Redeemable from 01 July to 30 September 2019
Valid for all areas of Therme Erding
Free entrance for the bus driver
Free coffee for the bus driver
Preferred and fast Check-In
Numerous free parking spaces
Image and text material for your catalogue entry
additional advantage for groups of 25 persons or more: Free admission for one accompanying person
From Monday to Friday from 9.00 a.m. to 6.00 p.m. you are welcome to inform yourself personally about our group offers. Of course we will also send you detailed information about our group offers by post.
Please register your group in advance (at least 3 working days before your visit) by sending an e-mail to [email protected]. Register now and benefit as a group from our special conditions!
Contact:
[email protected]
Tel. 08122 - 550 - 1122
Fax 08122 - 550 - 1119
We are looking forward to your registration and would be happy to advise you on the group offer of the Therme Erding!
*Outside the promotion period, the regular group discount of the Therme Erding applies to the following conditions: 10 % discount from 20 persons, free entrance for the bus driver, free entrance for an accompanying person from 25 persons, one free coffee for the bus driver, 10 % discount on your order at Ruff´s Burger in the Therme Erding.