Camping at the holiday paradise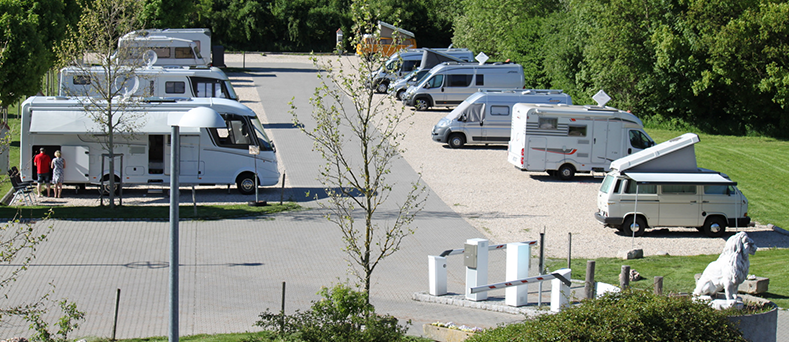 Park your caravan across from the parking garage of Therme Erding, and enjoy our South Seas feeling first thing in the morning without a long drive. The caravan park offers 55 paved campsites for your convenience. The park with disposal station, power and water hook-ups, waste disposal, and a sanitary building satisfies the most modern requirements and leaves no wish unfulfilled. You can supply yourself with fresh products like milk, eggs, cheese, and butter directly from the nearby farm. Baked goods fresh from the oven for a delicious breakfast at the Caravan Park Erding or for a snack any time are available every day from 09:00am to 09:00pm from our bakery. Swimming costumes, gifts, shower gel, body lotion, and much more are available at the "Gruber Badhaus" (10:00am to 08:00pm) and at the "Kneipp Shop" (10:00am to 20:00pm, Sundays 11:15am to 05:00pm). All shops are located across from the Caravan Park in the Galeria of Therme Erding.
The parking area can be accessed any time for a fee, which you can remit conveniently at the automated pay station.

If the motorhome park is already fully utilised due to high demand, you can alternatively park free of charge on the gravel area east of the Hotel Victory Therme Erding.
Fees:
| | |
| --- | --- |
| 1 day* | 12 € |
| 2 days | 24 € |
| 3 days | 35 € |
| From 4 days | 10 € per day |
* 1 day = 24 hours
External owner and operator of the Caravan Park Erding:
Klaus Gerst | Ziegelstatt 1 | 85435 Erding | Phone: 08122 / 999 7673 | Fax: 08122 / 903 977 | www.wohnmobilpark-erding.de