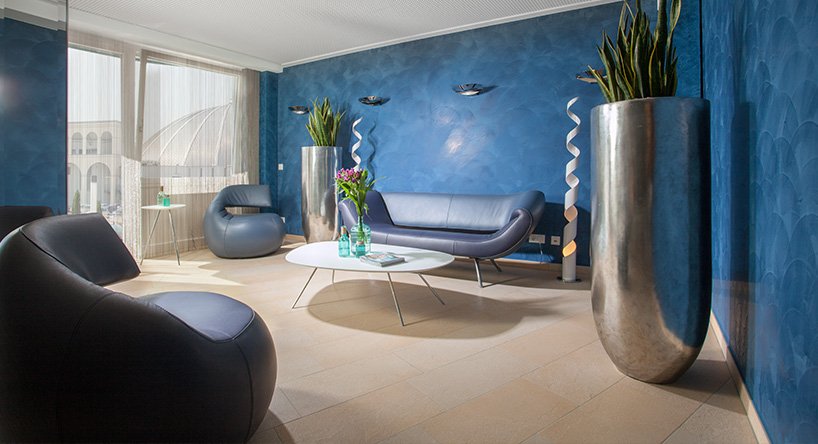 Here you will find all the information you need to book and stay at the Victory Gästehaus Therme Erding.
If you have any further questions, please feel free to contact our reservation department at [email protected].
Open Areas in the Therme Erding
Find here all information about the currently open areas.
Note: As a guest of the Victory Guest House, you are automatically guaranteed admission to Therme Erding during your entire stay. An additional daily reservation is not necessary.
Payment for admission to the thermal spa will still be made on site, you can pay in cash, with EC card or already purchased vouchers.
One of the following three documents can be used as proof of eligibility:
Tested - Officially recognized negative corona test result (max. 48 h old PCR-Test or max. 24 h old rapid test), which must be no more than 24 hours old upon arrival. A negative test result is required for ages 6 and older. Pupils who are subject to regular testing as part of their school attendance are exempt. The student ID card, the pupil ticket or a report card can be presented as proof. Please note: Only tests from an official testing center will be accepted. Self-tests that you bring with you will not be accepted. Free testing facilities are available in Erding. If you stay longer than 72 hours, a new test is necessary.
Vaccinated - Please bring your official proof of vaccination or vaccination certificate showing that you have been fully vaccinated for at least 15 days.
Recovered - Recovered people are treated as tested and fully vaccinated and do not require a negative test. Please bring your positive PCR test result that is at least 28 days and no longer than 6 months old.
Hygiene & safety measures
In accordance with the provisions of the new 14th Bavarian Infection Protection Measures Ordinance, which comes into force on September 2, our guests aged 6 and over are required to wear a medical mask ("surgical mask") from the parking garage through the entrance area to the changing rooms. Children under 6 years of age do not need a mask. In the bathing area and the associated sanitary and outdoor facilities, the wearing of a mask can be dispensed with, provided that the distance rule of 1.50 m is observed.
The observance of the safety distances in the entire hotel & bath area has top priority for us. To be able to guarantee this, we have taken various measures, such as floor markings as orientation aids. In addition, our trained team always keeps an eye on the situation and checks the maximum number of visitors allowed per pool as well as the safety distances. We deploy additional staff on site for this purpose. At the same time, we appeal to our guests to take responsibility for themselves so that there are no large gatherings of people. We ask for considerate treatment of other guests and compliance with the minimum distance of 1.5 m per person.
Lounges & reservable sunbathing facilities
You can reserve your private Relax Egg in our booking system for the desired day. The payment will be made on site. The booking of other lounges is currently not possible. There are plenty of free lounging options available on site.
Victory Guest House is located only 100 metres from the entrance to Therme Erding.
There are plenty of parking spaces right outside the building.
You can check in right at the Gästehaus.
The fitness room at the Hotel Victory Therme Erding is available to you at no charge
On the day of your arrival, your room will be ready for you at 03:00 pm.
On the day of your departure, we ask that you please check out of your room by 11:00 am.
Due to legal reporting requirements, we ask guests from abroad to keep their identity card or passport ready at check-in. A driver's license is not considered a sufficient identity document.
Payment must be made on site.
Cancellations: Unless otherwise specified in the service description, you can cancel your booking up to 3 days before your stay at no charge. After that, we charge 80% of your booking total. No-shows are charged 90% of the total price of the booking. Please note that cancellations require written form. We recommend buying travel cancellation insurance.
When you book a room online, your credit card information is collected for guarantee purposes only. Your credit card is not charged automatically.
We accept the following vouchers: Kleine Auszeit Therme, Kleine Auszeit Thermenwelt and HotelEuros.
Since vouchers cannot be redeemed when booking via our homepage, we ask that you please contact us by phone at +49 (0)8122 550 6500 or by e-mail.
Declaration of consent for minors
In order to protect the youth in public, we collect a declaration of consent from the guardians of minor guests who are not traveling with a legal guardian. The declaration of consent must be handed in at the reception upon check-in. Download our sample form.