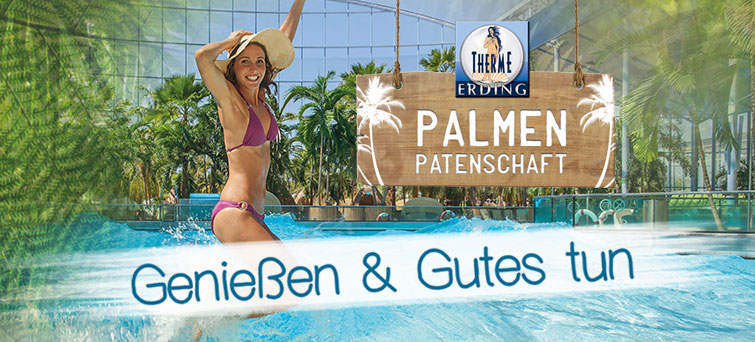 Palm Sponsorship
Enjoy and do good! Since 2018, the project "Therme Erding Palm Sponsorship" has been in existence at the Therme Erding. Guests can sponsor one of the 100 most beautiful palm trees in the wave pool. The proceeds of the project go to a good cause, like last year to the Märchenmond children's house, an integrative kindergarten in Erding.
In 2020 and 2021, Therme Erding will continue to support non-profit organizations with the "Palm Sponsorship" project. This year the donation goes to the animal protection association district Erding registered association. The association with its own animal shelter is dependent on donations to enable the accommodation, care and placement of the animals.
In this course new sponsorships can be taken over immediately again.
For 99 Euro this is valid until 31.12.2021. Your palm tree will then be provided with an individual sign. There you can display your desired text (for private persons) or your company logo (for companies).
As a palm tree sponsor, you will receive a day ticket for the thermal baths, wave pool and slides worth 39 euros, your sponsorship certificate and a map showing the location of your palm tree.
Are you interested in the Therme Erding palm sponsorship? Then we look forward to receiving your e-mail to [email protected].