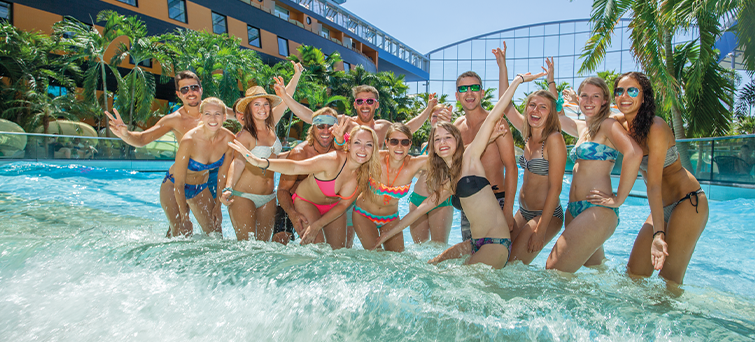 Group offer
The largest thermal spa in the world is a popular destination for bus companies, tour operators, clubs as well as private groups.
Please note that as a group you must comply with the Corona rules in Bavaria regarding the permitted number of people for gatherings.
Experience more together is the motto: fun, adventure, experience, relaxation and community combine in a vacation setting with over 450 real palm trees.
Benefit as a group of 20 or more from numerous extras and special conditions:
Groups of 20 or more receive a 10% discount on all basic rates
Groups of 20 or more receive guaranteed entrance on the day of their desired visit - you save the reservation fee of € 3.90 per person
Groups of 25 or more also receive free entrance for one accompanying person
Free entrance for the bus driver with a passenger transport license
10 % discount on your order at Ruff's Burger in Therme Erding
Numerous free parking spaces

This offer is only valid if you register up to 5 working days before your visit by sending an email to [email protected] On weekends and holidays, all capacities can be booked out early, so we recommend an early reservation. A group reservation is only binding with a reservation confirmation by e-mail from Therme Erding.
The group offer is also valid for the VitalTherme & Saunas.

Relax together with friends or colleagues in the sauna and enjoy unique attractions around heat, water and wellness in the VitalTherme & Saunas.