New Year's Eve at Hotel Victory Therme Erding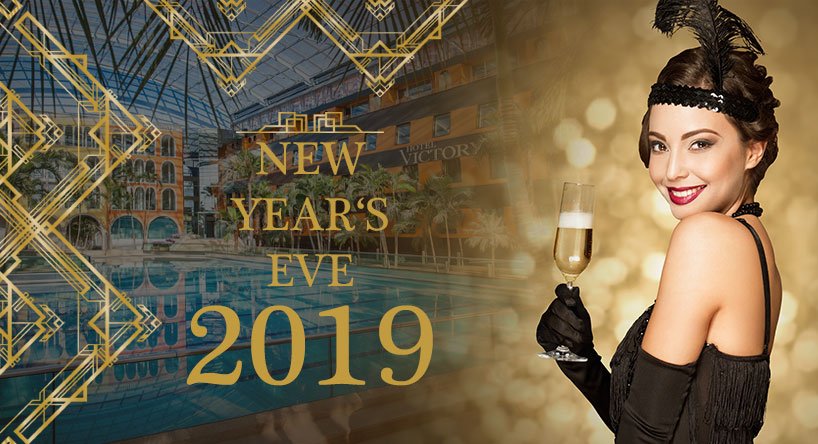 Celebrating New Year's Eve under palm trees
Join us in celebrating the turn of the year 19/20 on board the Victory and enjoy two nights in a unique themed hotel located in the world's largest spa. Take part in the big New Year's Eve celebration in the festively decorated Hafen Restaurant of the Hotel Victory Therme Erding.
To celebrate the 20th anniversary of the Therme Erding, our entertainment programme will take you to the "golden twenties". A thrilling party night with DJ music, show act and dance floor awaits you.
Big New Year's Eve celebration under the motto "Golden Twenties"
The last evening of the year starts at 18 o'clock, where we welcome you at a reception with aperitif and small snacks. Here you can use our photo box for a free souvenir photo. Afterwards we open the big gala buffet with many delicacies and goodies. House wine, beer and soft drinks are of course included in the price.
Shortly before midnight we expect you in front of our hotel, where every guest receives a glass to toast and the new year is rung in with a breathtaking New Year's Eve music fireworks.
We invite you to a midnight snack, so that no one is hungry for the New Year.
For this special event, which will take place at temperatures around 22-23°C, we recommend an evening dressing room during the New Year's Eve celebration, which is in keeping with this year's motto.
Combine your stay with a time-out at Therme Erding
During your New Year's Eve stay at the Hotel Victory you can book your spa admissions flexibly and according to your own wishes.*
Relax in the 34° warm water and refresh yourself with fruity cocktails in the middle of the pool. Those seeking rest and relaxation can look forward to a wide range of wellness facilities with over 31 saunas and steam baths and more than 90 infusions daily. All age groups can enjoy exciting sliding duels with the whole family on the 27 slides of the Galaxy Erding.

Stay from 30.12.19 to 01.01.20 or 31.12.19 to 02.01.20
from € 851,- in a double room.
* Opening hours of the Therme Erding on 31.12.2019 from 09:00 -17:00 o'clock and on 01.01.2020 from 11:00 o'clock.
** Due to high occupancy, it may be possible for you to be seated at the same table as other guests.
2 nights in a double room
(30.12.19 to 01.01.20 or 31.12.19 to 02.01.20)
from € 851,-
Including New Year's Eve celebration**:
Cocktail/captain reception
Gala buffet incl. selected drinks
Separate buffet area for children incl. kids entertainment
exclusive fireworks display with music
show act
photo box
midnight snack
also included:
Breakfast buffet
Free WLAN and parking

Admission to Therme Erding can be flexibly booked.