World debut: Virtual Reality slides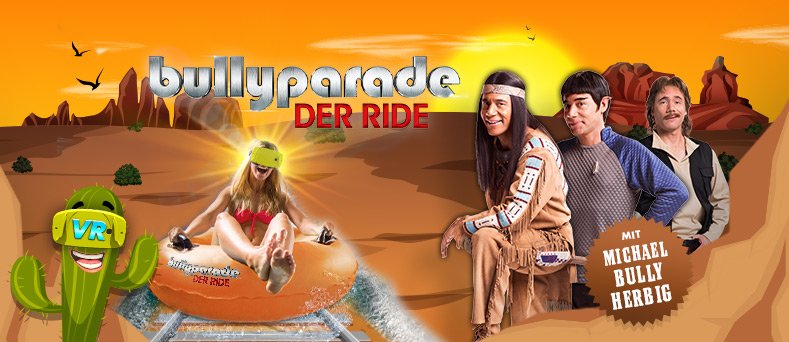 In the Galaxy Slide World you can discover distant galaxies, fabulous celestial worlds or tropical jungle worlds with the help of virtual reality technology.

On the 160 m long tire slide Space Glider, we let the first Water Slide experience with Virtual Reality glasses come true!
.

But what happens during the Virtual Reality slide?

Here you become an actor yourself! While you conquer the rapid up and down stretches of the Space Gliders, you wear VR glasses with 360° panoramic vision. This enables you to perceive a virtual environment live while slipping.

Feel like an astronaut on his galactic journey through space, float weightlessly through the imaginative Skyworld or explore a tropical jungle world.

Amazement, rays, goose bumps and cries of joy - as soon as you reach the landing pool, great emotions are guaranteed!

The combination of ultra-modern VR technology and water slides is visionary and unprecedented. This new dimension of sliding was created in cooperation with the leading slide manufacturer wiegand.waterrides, the VR professionals from Ballast and Samsung.
New now! Bullyparade - The Ride
Experience our latest VR world, an homage to Michael Bully Herbig's greatest TV and cinema successes. During the ride, the rider rides in a lorry on rails over the deep gorges of the Grand Canyon, through explosive gold mines, past smoking railroads, cacti and wildebeest skeletons to the finish line, a stylish western town with a cowboy saloon, while the sun rises over the almost endless horizon. Real Wild West flair at its best!
Highlight: The guest can choose for himself which bully character will drive in the lorry in front of him! Who should accompany you on the ride of your life? Mr. Spuck, Winnetou or Sigi Solo?
Monday - Thursday
2pm - 6pm
Friday
1pm - 5 pm & 8pm - 9pm
Saturday, Sunday, public holidays and during the Bavarian school holidays
12am - 3pm & 6pm - 8pm
Price:
Bullyparade - Der Ride: 3 € per slide
More planets: 2 € per slide
Weight limit: 90 kg
Age: From 9 years
Virtual Reality slides
Let yourself be carried away into the endless vastness of space and test the first water slide experience with virtual reality glasses! Innovative and visionary is the combination of state-of-the-art VR technology and water slides that has never existed before. Immerse yourself in a fascinating space atmosphere and feel like an astronaut on his adventurous journey through the universe.