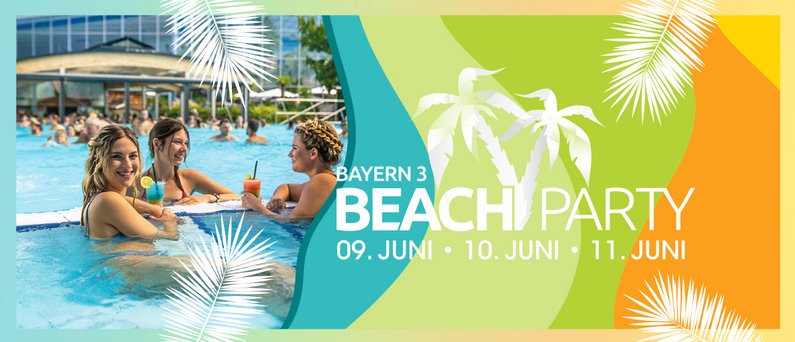 BAYERN 3 Beachparty
Enjoy ultimate summer hits, spectacular live shows and cocktails at the worlds largest spa! The BAYERN 3 Beach Party from Friday 9th to Sunday 11th of June guarantees you unforgettable holiday moments. Prepare yourself to be entertained by international artists and bands on our large stage in front of the outdoor pool.
Beginning on Friday, BAYERN 3's DJ Tonic will kick off the hottest pool party with true beach party vibes. Furthermore, the German newcomer band THE ESPRITS is going to create a great atmosphere rocking the stage with their energetic rock'n'roll tunes. Special guest of the evening is Max Giesinger, who inspires the guests with his famous songs like "Wenn sie tanzt" or "80 Millionen".
On Friday and Saturday, all kids can look forward to musician and DJ Nilsen. The "children's song beat master" picks up on current topics from children's everyday lives in his stories and packs them into an instantly participatory join-in sound with electronic beats and catchy melodies.
Look forward to dive into the true club feeling when DJ Zoom. Like takes the decks on Saturday with his house music, guaranteeing a great party atmosphere. Newcomer Kamrad, who's single "I Believe" reached millions of views and numerous chart rankings last year, underlines the mood for hot summer days. Also, the Austrian singer-songwriter Alexander Eder, who took part in the eighth season of "The Voice of Germany" in late 2018, will impress live on stage with his magical deep voice. Saturday's highlight is the performance of the German duo Glasperlenspiel. With numerous mega-hits such as "Ich bin ich", "Geiles Leben" or "Royals & Kings", they will ensure to provide the best in musical entertainment.
On Sunday, various artists, such as the Ravensburg musician Myle, will take the stage. The newcomer is currently mixing up the German charts with songs like "Not Ready".
Whether you're at the pool bar with a summery fruity cocktail, on our bubbling outdoors water loungers or sunbathing on one of the many different lounger options - at the Therme Erding you will find your own personal favorite spot to experience the unforgettable acts up close on stage. A varied programme with a number of additional events will complement the wide range of activities.
Stay tuned, the Bayern 3 Beachparty tickets are available soon!
Wellenbad Außenpool
09.06.2023 until
11.06.2023