Useful Information prior to booking
Here you will find all the information you need to book and stay aboard the Victory.
If you have any further questions, please feel free to contact our reservation department at reservierung@victory-hotel.de.
General information about your sea voyage
Plenty of berths (parking spaces) are available immediately in front of the hotel.
Our VICTORY is moored directly near the Wavepool at Therme Erding. It is entered via the ship's lobby, which also gives you direct access to the Wavepool.
You can embark (check in) at the command bridge in the hotel lobby.
For easier navigation, we recommend packing a separate bag with your bathing gear for Therme Erding.
Duffel storage: Luggage storage, lockers, and dressing rooms are available at no extra charge.
Even in heavy swells, you don't need solid footwear, only your thongs. Entry to Therme Erding is only allowed with bathing slippers.
Exclusively for hotel guests: You may take an early-bird swim in the Wavepool Mo. – Fr. from 08:30am. The other areas of Therme Erding are accessible during their general opening hours. (On Saturdays, Sundays, holidays, and during the Bavarian school holidays, Therme Erding opens at 09:00am.)
Wave operation: From Mo. - Fr. Starting at 10:30am and Sat. - Sun. starting at 09:30am, you can dive into waves up to 2 meters high in our Wavepool.
Should you have poor cell phone reception or none at all while on the high seas, there is a landline phone available to you in your cabin.
When your little pirate needs a break, you can rent a baby phone (depending on availability) from the command bridge
Thermencard: To exchange your old Thermencard or recharge it, we ask that you visit the Guest Relation of Therme Erding when you go ashore.
There is a fitness room with different machines available to all strong sailors at no extra charge. It is located on the garden level.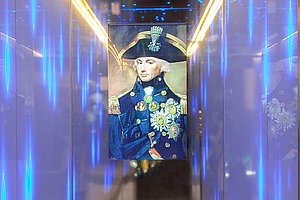 Embarking and disembarking
On the day of your arrival, your cabin will be ready for you at 03:00pm.
On the day of your departure, we ask that you check out of your cabin before 11:00am. You are welcome to use the Quick-Checkout form that is provided in your room.
Due to legal reporting requirements, we ask guests from abroad to keep their identity card or passport ready at check-in. A driver's license is not considered a sufficient identity document.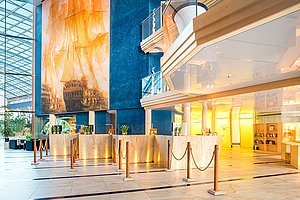 Navigation charges (Prices)
Overnight stays ion board include breakfast, WI-FI und charge free parking.

Depending of the room rate description is a a one-day admission ticket to the spa included. You may use it on the day you embark or on the day you disembark during regular spa hours. Your one-day admission ticket is good for one whole day, but it cannot be split between arrival and departure day. The Spa, Galaxy Erding, and the Wavepool are included. The VitalityOasis (+7€) and the Spa Area & Saunas incl. VitalityOasis (+13€) can be added without prior booking by visitors aged 16 or over.

Other spa admissions and tickets are available from the command bridge.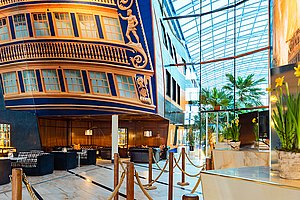 On-board meals and restaurants
Sail away into an enjoyable morning with us: Our rich breakfast buffet is available every day from 07:00am to 10:30am in the maritime flair of our Hafen Restaurant.
In addition to breakfast, half board includes a changing three course evening meal at the Restaurant Empire. You have two choices of appetizers, main courses, and desserts.
Dinner time 1: 05:30pm to 07:30pm, dinner time 2: 07:45pm to 09:45pm
Our Empire Restaurant is open to you from Monday through Sunday, 05:30pm to 11:00pm. We ask that you please reserve a table and arrive in street clothes! (Last orders accepted at 09:45pm)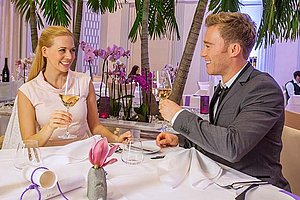 Booking guarantee:
Unless otherwise stipulated in the service description, advance payment of 100 percent must be remitted by three weeks before your stay at Hotel Victory Therme Erding. You will receive a separate e-mail from us with a payment reminder and information on the various payment methods available. If you would like to remit the total amount due prior to that time, you are welcome to do so by wire transfer to the bank details listed in your booking confirmation. Please include your reservation number as a reference. For online bookings within seven days of your arrival, your credit card is automatically charged with the total amount due.
Cancellations:
Unless otherwise stipulated in the service description, you can cancel your booking free of charge up to three weeks before your stay at Hotel Victory. For later cancellations, we charge 80 percent of the package price, for no-shows we charge 90 percent of the total amount. We recommend buying cancellation insurance.
During online bookings of more than 7 days in advance, your credit card information is collected only for guarantee purposes. The card is not automatically charged.
In order to protect the youth in public, we collect a declaration of consent from the guardians of minor guests who are not traveling with a legal guardian.
You can embark on your sea voyage with the following vouchers: HotelEuros, ThermenEuros, the hotel voucher "365 Tage Sommer", the value voucher for the Empire Restaurant, and the breakfast voucher for the Hafen Restaurant. Since the vouchers cannot be redeemed when booking via our home page, we ask that you please contact us by phone at +49 (0)8122 550 3550 or by message in a bottle.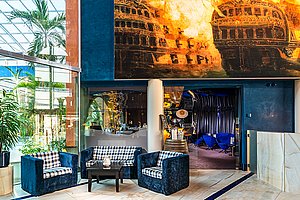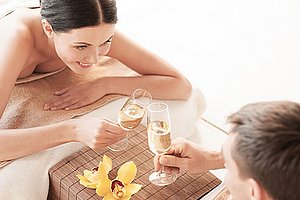 For all those who want to still feel like real seafarers even after the end of their voyage, we offer a selection of souvenirs of your stay on board the Victory. They are available from the command bridge:
Victory Bathrobe – 59,00 €
Victory Bathing slippers – 5,00 €
Victory Beach towel – 25,00 €
Victory cuddle blanket – from 35,00 €
Victory Treasure chest with personal care products - 23,00 €
CD "Admiral Nelson" – 9,00 €
CD "Therme Erding Lounge Nights" – 14,00 €
Therme Erding Shower Gel – 6,00 €
Therme Erding Peeling Salt – 5,00 €
Hotel Victory oder Therme Erding Rubber Ducky – 3,00 €