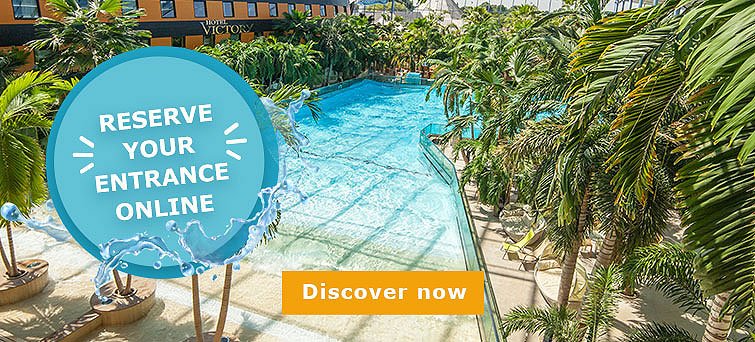 Information for your stay at Therme Erding
We are looking forward to welcoming you to the Therme Erding and to offering you again relaxing hours of vacation under palm trees. You will find all information about visiting the Therme Erding below.
We strongly recommend booking in advance on weekends, public holidays and during vacation (also consider neighboring countries) to avoid very long waiting times at the entrance (up to 4 hours). Without reservation we cannot guarantee the entrance. Discover here all information about online reservation.
You can still decide for yourself how long you would like to visit the Therme Erding. Even a full day visit is still possible. Discover here all information about our current prices & opening hours.
Nearly all attractions are currently available to you. Only saunas below 60 degrees, steam baths and infrared cabins will remain closed until further notice due to the requirements of the responsible authorities. Infusions can take place again for our sauna fans, but due to the current situation they will be carried out without waving until further notice. Discover our new day and infusion program in the area of Spa Area & Saunas! Currently, at certain infusion ceremonies at the Spa Area & Saunas (textile-free, from 16 years of age), chips are given out in advance for the actions. You can pick them up at Paradise Point 45 minutes before the start and secure your place for the respective infusion. You will find more information at our infusion board on site.
Infusion ceremonies take place regularly in the VitalityOasis (textile, 16 years and older), participation is only possible with prior registration at the Vital Point. You will find a mask issue at the bamboo bar from 10:00 am - 09:30 pm.
Allow yourself to be spoiled with culinary delights in all of our catering areas, because they are available to you as usual.
Our pool bars also provide you with your favorite cocktails. Only take-out drinks may be served here.
Let yourself be pampered with a relaxing massage during your stay under the palm trees. We recommend making a reservation with our massage providers in advance. To ensure safe treatment, our therapists always wear mouth-nose protection.
Hygiene & security measures
The health of our guests and employees is our top priority. So that you can enjoy your stay with us carefree, we have extended the already very high hygiene standards of Therme Erding in close cooperation with the responsible authorities with further measures.
Limitation of the number of visitors
It is particularly important to us that every guest can enjoy a safe and relaxed stay at the Therme Erding. Therefore we have decided to reduce the maximum occupancy of our legally permitted capacities far beyond the official requirements in order to create the greatest possible space for all visitors.

The adherence to the safety distances in the entire entrance & bath area has top priority for us. To be able to guarantee this, we have taken various measures, such as floor markings as orientation aids. In addition, our trained team always keeps an eye on the situation and checks the maximum number of visitors per pool and the safety distances. We deploy additional staff on site for this purpose.

At the same time, we appeal to our guests' sense of personal responsibility, so that, for example, there are no large crowds at particularly popular slides or pool bars. We ask you to treat other guests considerately and to observe the minimum distance of 1.5 m per person.
We are happy to receive your feedback on our hygiene & safety concept at [email protected].
We ask you to visit the Therme Erding only if you are in good health and to observe the sneezing and coughing label. Persons suspected or confirmed of having an infection in their immediate family or circle of friends within the last 14 days are not allowed to visit the spa. If you feel generally unwell or experience flu-like symptoms, we strongly advise you not to visit the Erding spa.
A mask is only required from the way out of the parking garage, through the reception & checkout area to the changing rooms. From entering the bathroom area as well as in all sanitary facilities and the outside area, the use of mouth-nose protection can be dispensed with. Provided that the distance rule of 1.50 m is taken into account at all times.
The mouth-nose covering applies to all persons from 6 years.
Guests who cannot wear a mask for medical reasons and can show a certificate are not obliged to do so.
We have optimised our already very high cleaning standards even further and clean and disinfect all areas of our spa world throughout.
A large number of hand disinfection stations are available to you throughout the Therme Erding thermal spa.
You have vouchers that expire in June 2020? Due to the current situation, all vouchers will be temporarily extended until October 31th 2020 so that you can make up for your time out with us. We have compiled all the information about your Aldi ticket on our special offer page. Kids Club vouchers for birthday children in March, April, May or June will be extended until December 15th 2020.
Buggies cannot be rented on site due to the current situation, we ask for your understanding. However, you are welcome to bring your own buggy with you.
After Work under palm trees!
Enjoy the evening under the palm trees and save up to 9 € on the admission price with our special ticket.
Those who don't wait for the next short holiday and take a little time out more often live healthier and are more productive. Therefore, relax more often after work with refreshing cocktails in the pool or a massage and recharge your batteries. Whether alone, with your partner or your work colleagues, a relaxing visit to the Therme Erding will give you a refreshed and energized start to your job.