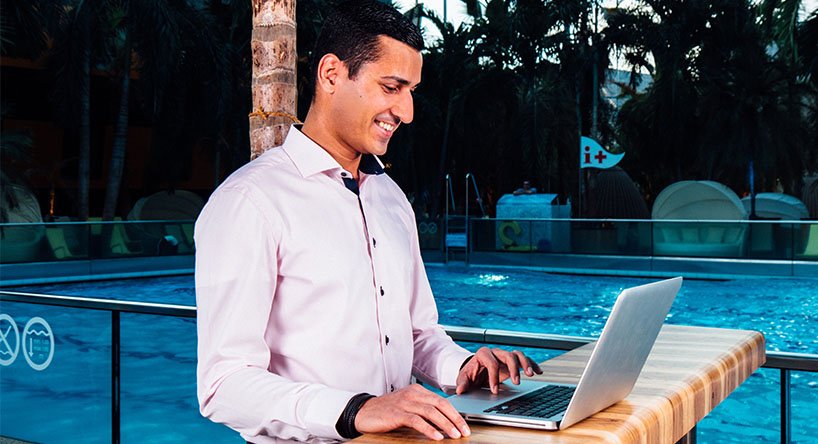 The Victory Gästehaus is the cost-optimised and efficient accommodation for business travellers staying in the Munich region. Business guests and trade fair visitors benefit from the favourable location of the guesthouse: Munich Airport and the Munich Trade Fair Centre are not far away, Munich city centre is easily accessible via various motorways and the S-Bahn.
The Victory Gästehaus is not only convincing for business trips. Directly across the street is the Hotel Victory Therme Erding, the perfect conference hotel of a special kind. With six conference rooms, three event locations and a wide range of restaurants, all needs can be met during an event.
The rooms offer sufficient working space and are equipped with high-speed LAN and WLAN.
After a strenuous visit to the trade fair or a long day of meetings and negotiations, the close access to the Therme Erding offers the opportunity to relax and unwind. The largest spa in the world offers many ways to clear your mind and recharge your batteries. 185,000 m² of spa world are available to every guest with many saunas, fountain of youth, whirlpool, wave pool, lots of slide fun and much more for an extra charge.
The combination of productivity and relaxation makes the Victory Gästehaus an outstanding business hotel in the Munich region.
Advantages for business travellers
When a company books more than 50 overnight stays per year for business trips in the Victory Gästehaus, the hotel offers a company rate that offers a variety of benefits.
Booking and check-in
Best Price Guarantee
cancellation free of charge until 18:00 on the day of arrival
24h check-in
Room available for up to 4 persons for an extra charge
advantageous location close to Munich Airport (16 km) and the Munich Trade Fair Centre (31 km)
Benefits
free parking for hotel guests
free high-speed Internet access (LAN & WLAN)
Combination of a work stay with the recreational factor of the Therme Erding
Shuttle service possible for an extra charge
Charging station for electric cars available
many advantages for business travellers and companies
easy access to Munich Airport (16km) and the Munich Trade Fair Centre (31km)
Perfect combination of work and recreation
extensive conference facilities at the Hotel Victory Therme Erding
1