Relax Island
The new Relax Island lounger gallery is located high up in the cascade room, directly adjacent to the Galaxy Erding. From here you have an incomparable view of the summer thermal garden.
Treat yourself to a bit of privacy for yourself and your loved ones and reserve your private berth before your stay.
Relax as a couple, with friends or the whole family in one of the 15 private Family Relax Eggs, equipped with comfortable cushions and fully lockable. Here you will find space for up to 4 people and can enjoy your exclusive retreat possibilities in a modern design.
Or enjoy togetherness on one of the 21 private cresting shells. The cosy, round shape, the upholstery and the cushions invite you to feel good.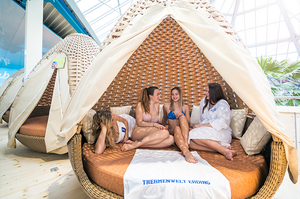 Relax Eggs
Highlight:
private retreat
Location:
Relax island in the cascade room
More information
Resting shells
Highlight:
private retreat
Location:
Relax island in the cascade room
More information